FINALISTAS | MAR'S MILLION COLONY
En la misma semana que la empresa Space X de Elon Musk ponte en orbita un Tesla Roadster en Marte la fundación Jacques Rougerie nos selecciona como finalistas para el concurso de «Innovation et Architecture pour l'Espace» con nuestro proyecto  <Mar's Million Colony>.
Nosotros le damos una idea de como podría organizar el urbanismo allí.
Un proyecto que plantea una solución urbana para el planeta rojo. Existen muchos proyectos de asentamiento pensados como laboratorios o unidades habitacionales provisionales pero el proyecto da un paso más y plantea un sistema a largo plazo. Contesta a preguntas como:
¿Cómo querrían vivir los nuevos colonos?
¿Cómo deberían crecer las ciudades para dar cobijo a 1.000.000 de personas?
¿Cómo sería el gobierno?
¿Propiedad Privada?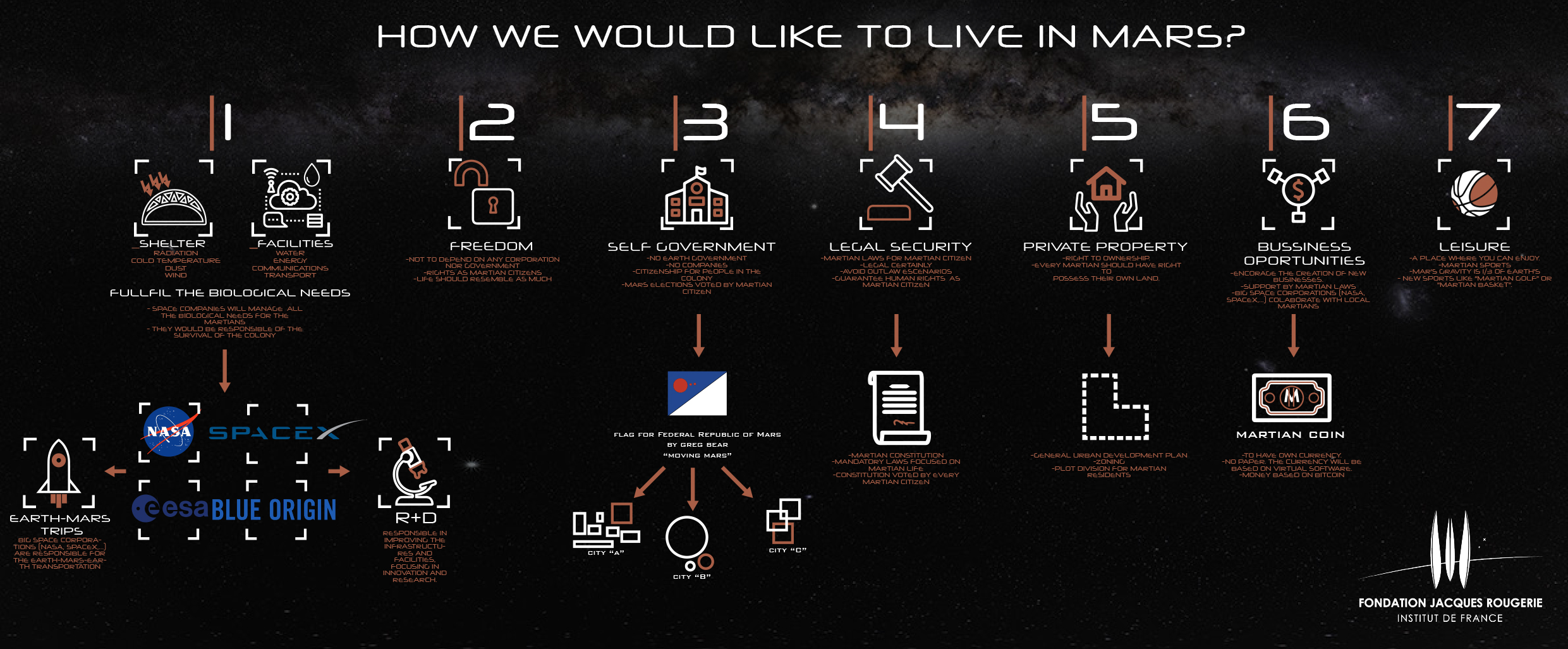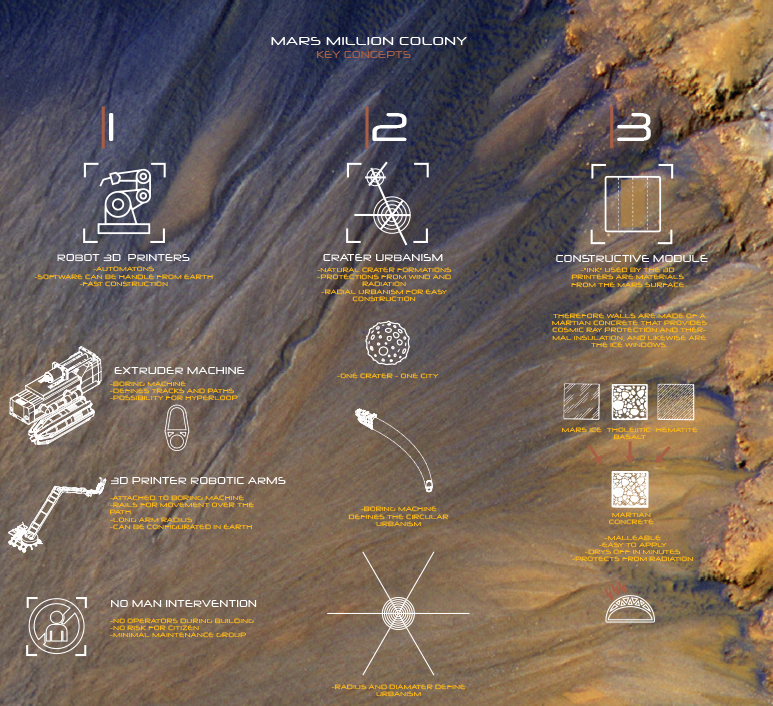 En nuestro proyecto se contestan esta preguntas desde un enfoque urbanístico donde se da una solución a escala urbana hasta el módulo habitacional.
La colonia empieza fundandose en un crater con un primer anillo creado por una maquina tuneladora enviada previamente a la llegada de los nuevos colonos. A esta máquina tuneladores le acompañaran varias impresoras 3D compuestas con un brazo robótico que se encargar de diseñar la arquitectura remotamente desde la tierra. La ciudad crecerá concentricamente mediante anillos y radios.
De esta manera, tú puedes ordenar el diseño de tu vivienda desde la tierra y tenerlo listo a tu llegada al planeta rojo. La vivienda cumple los estandáres mínimos de supervivencias con módulos de aislamiento, control atmosférico y un gimnasio para mantenerte en forma en un ambiente de baja gravedad.
El sistema constructivo estará exclusivamente compuesto por materiales marcianos como basalto toleico , hielo y minerales formando un hormigón marciano que protegerá a sus colonos de los rayos cósmicos y dará aislamiento térmico.
En un futuro, la pequeña colonia, se convertirá en un estado autosuficiente con su propia cultura, sociedad y forma de vida. Un ciudad diseñada para la gente de hoy.
Os dejamos abajo los paneles del proyecto.
Estudio: Mtres Studio
Equipo:
-Vicente Molina Moreno
-Vicente Molina Domínguez
-César Molina Domínguez
-Antonio Felipe Rello
-Marcos Reyes
-Alejandro Taratiel
-Pastora Álvarez
-Borja Bragado
-Irene Coca
ENG | How many of you have ever dream about living in Mars? If you pay attention to the proposals of Martian settlements, all of them offer a low-capacity, scientific-lifestyle, earth-reliant and standardised modules. Mars Million Colony shows the way to develop the urban colonization of Mars, at least to reach a million population colony; a city built and managed directly from Mars. As a Martian citizen you will have access to (apart from an infrastructure that covers all your biological needs) your own private property, a democratic self-government and new forms of leisure and business opportunities.
The way to build all this system has to be the less earth-reliant, due to the great expense of the space travel; thus, in Mars Million Colony the only premade units brought from Earth are a tunnelling-extruder machine and some 3D printer robotic arms. The colony starts in a crater with a first tunnel ring that holds the isolated pedestrian walkways, a vacuum tubular public transport system and the railway for the robotic arms that prints every building. It grows through concentric rings and radial tunnels that can connect to new cities.
You can order your house from Earth and they will be finished before owners' arrival. It can be built as a regular house but has to suit a Mars equipment and constructive standards, such as isolation modules, atmosphere control devices or a gym to keep you fit in Mars low gravity.
Raw materials employed are those extracted directly from Mars, as dirt, minerals, ice, gases… Therefore walls are made of a Martian concrete that provides cosmic ray protection and thermal insulation, and likewise are the ice windows.
Mars Million Colony will become a self-sufficient country with its own culture, society and way of life. A future city designed for people of today.
FRA | Combien d'entre vous avez rêvé d'habiter en Mars? Si vous prêtez attention aux établissements martiens proposés, ils semblent offrir des modules standardisés de baisse capacité où on ne peut que mener un style de vie très scientifique et très dépendante de la Terre. Mars Million Colony cherche la façon de coloniser et urbaniser ce planet voisin pour accueillir au moins une colonie d'un million de personnes dans une ville construite et managé directement à Mars. Une fois devenu citoyen martien, vous aurez accès à une propriété privée, un governnement autonome et démocratique, des nouvelles opportunités pour l'emploi et le loisir ainsi qu'une infrastructure destinée pour satisfaire toutes vos nécessités biologiques.
La façon de bâtir ce system doit être le moins dépendant de la terre possible dû aux frais des voyages dans l'espace; en plus, les seules unités préfabriquées apportées de la Terre à Mars Million Colony sont des extrudeurs à tunnel et quelques bras robotiques d'impression 3D. La colonie nait d'un cratère avec un anneau qui contient des passerelles pour les piétons, un système tubulaire à l'effet vide ainsi que des chemins de fer indispensables pour le l'impression 3D des bâtiments grâce aux bras robotiques. Cette ville martienne se développe à travers d'anneaux concentriques et des tunnels qui connectent avec d'autres cités.
On peut même commander une maison de rêve depuis la Terre et avoir les travaux finis avant l'arrivée du propriétaire ; le mode de construction reste toujours traditionnel, mais doit s'adapter aux exigences constructives et logistiques de la nouvelle planète, voir l'isolation des modules, des systèmes de control atmosphérique ou même un gym pour rester en forme malgré les effets de la baisse gravité martienne. Vu que la matière brute employée est originaire de cette planète (poudre, minéraux, glace, gas) on peut bâtir des murs (ou des fenêtres en glace) avec une spéciale protection vers la radiation cosmique et l'insulation thermale.
Mars Million Colony deviendra un pays autosuffisant avec une culture, société et mode de vie propres et uniques, une cité du future désignée pour les gens d'aujourd'hui.